Remember Phil & Gary will return in 2024 for a two-day ode to Phil Lynott and Gary Moore on Friday, February 2 in Culemborg and Saturday, February 3 in Weert. It is now our twelfth edition, something we are particularly proud of. It has been quiet around our annual events; still we have been working hard on Remember Phil & Gary 2024 in recent months.
The most important thing is that we managed to book two great bands. It is always a challenge to come up with a fresh program. We believe we succeeded in this.
We are very pleased to introduce Meryn Bevelander. Meryn is very young but so talented, an enormously inspiring musician. He is also a huge fan of Gary Moore's work, so when we asked him to open the evenings with a Gary Moore set to be filled according to his own wishes, he was happy and proud to oblige! Meryn and his band (in which his brother Florian is also playing) are already rehearsing for his Meryn Bevelander plays Gary Moore performances, which we expect a lot from!
We already had Bad Reputation at Remember Phil & Gary in 2013 and those who were there probably remember what a party that was. Eleven years later the band is still alive and kicking! The men hail from the same island as Phil & Gary and for that reason alone share their sense of humor. Especially for the two Remember Phil & Gary concerts, the band will fly in from Dublin and will perform Thin Lizzy songs on our stage that are close in sound to the original performances. Of course the hits will be played and who knows, maybe even a track you didn't expect. Be surprised!
In the coming months we will be busy promoting the events, having the new merchandise designed and made and perhaps also getting a musical surprise on stage. After all, with us you never know. In any case, it is certain that there will be two great parties again!
We hope to meet many of you in Culemborg and/or Weert on February 2 and/or 3, 2024. You will probably see us walking around, we always enjoy a chat, so please give us a tapon the shoulder!
See you then and keep rocking!
Erik, Peter and John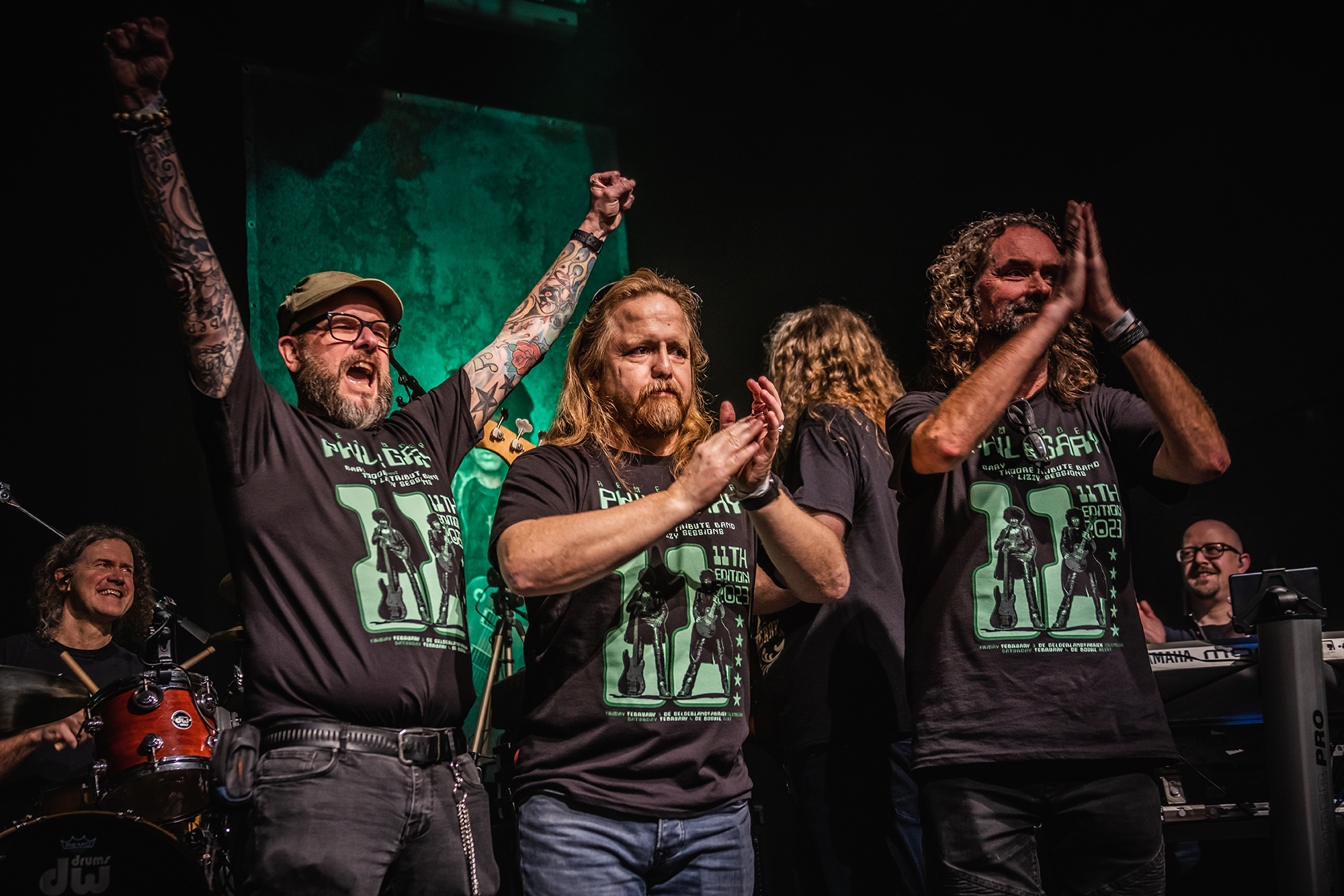 pic: Maurice Moonen
For Facebookmembers:
Also check https://www.facebook.com/RememberPhilGary
and become a member of the Remember Phil & Gary group