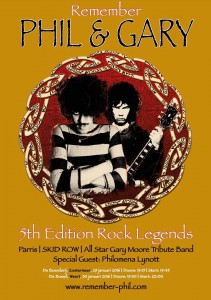 To make the Remember Phil & Gary's fifth anniversary even more special we'll have some artists making some very special artworks.
So do you want a unique Phil and/or Gary related artwork like us on facebook and join the Remember Phil & Gary group.
We'll keep you posted on progress and let you know how to purchase a piece.
The pieces will be exposed on the
Remember Phil & Gary evenings on the 29th and 30th of januari 2016

Remember Phil & Gary are two evenings where we will celebrate the artistic lifes of Phillip Parris Lynott and Robert William Gary Moore. Having a beer (Guinness is one of our sponsors) and most of all enjoy their music together with fans. (or as Phil use to say supporters). The venues will turn in irish ones this evening.
Music lovers, rock lovers but most of all lovers of the music of Phil Lynott, Gary Moore and Thin Lizzy. They left us a big legacy of great music. Music wich inspired millions of musicians. Music still played by the greatest and the most famous bands in the world nowadays. Have a regular look at these pages and maybe contribute by sending us your story.
29th of januari in the Boerderij in Zoetermeer and the 30th of januari in the Bosuil in Weert  
We hope you will enjoy this website but most of all join us on the 2 dates
Raffle
During the raffle you can win very special prizes.
The complete revenue of the raffle will be donated to the Roisin Dubh trust. They have long-term plans to inaugurate a Philip Lynott music scholarship. For more info check www.roisindubh.org
For Facebookmembers:
Also check https://www.facebook.com/RememberPhilGary
and become a member of the Remember Phil & Gary group