GRAND SLAM (UK)
Back in the post Thin Lizzy days, Laurence Archer wrote and performed with Philip Lynott. Sadly, Grand Slam was cut short in its prime, with Philip Lynott's untimely death leaving a hole in the fabric of rock music to this day.
Laurence went on to make his name playing with UFO but always nurtured a long-term plan to rebuild the Grand Slam machine. And here it is — primed and ready.
The new band (Laurence alongside Mike Dyer, Benjy Reid and Rocky Newton) honours the band's history whilst also looking to the future — classic tracks co-written by Lynott and Archer sit alongside a set of brand new songs that embody the same ethos of freedom, positivity and adrenalin that ran through Grand Slam in 1984. – (Marshall)
Laurence Archer – Guitar
Mike Dyer – Vocals
Rocky Newton – Bass Guitar
Benjy Reid – Drums
Gone are the days video Click here
(This videoclip was partly shot at Harley Davidson Club Weert)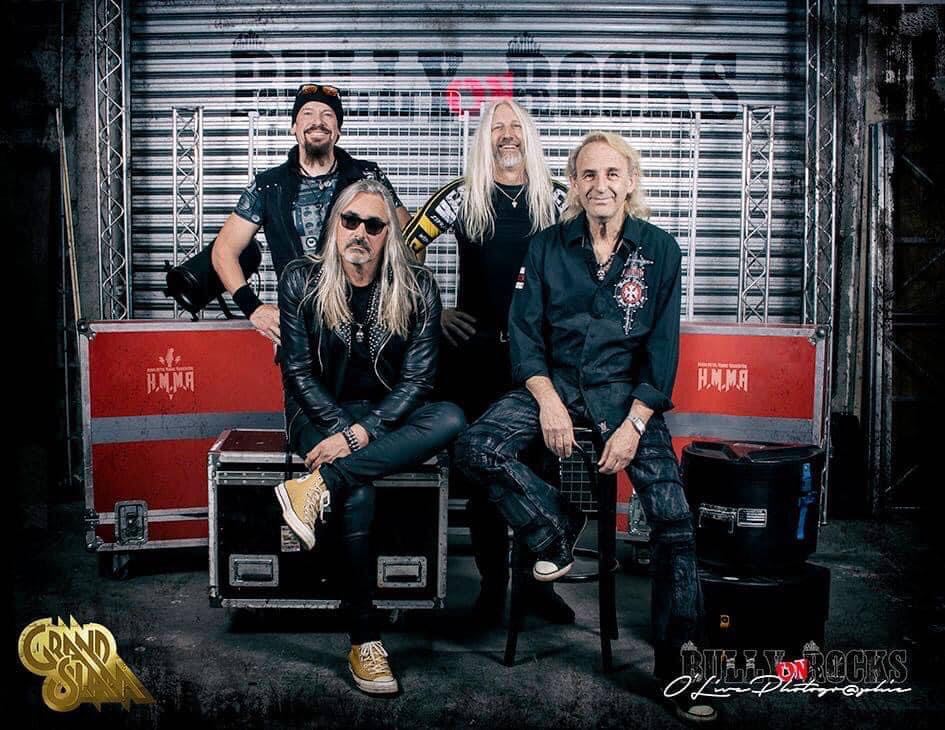 REVIEW (Metal Talk) The Dead Daisies, The Quireboys, Grand Slam.

Shepherds Bush Empire, London. 10 November 2021.
Grand Slam opened in fine style.
Gone Are the Days thrusts us straight into the feel-good hard rock that has always been the signature sound of the band, the swagger and groove of Thin Lizzy inhabiting every note but brought with their own sense of flair. Archer displays exactly why Lynott recruited him for the outfit, his fretwork rippling with both muscle and feel as he brings melody and bite with real class.
Equally impressive is singer Mike Dyer, the frontman bringing an easy charm and power to the role. His vocals on the driving Military Man and the devastating Sisters Of Mercy display his ability to go from a roar to a purr and back again.
The fact that Grand Slam packed so much into their thirty-minute set showed just what an outstanding outfit they are and why the return of the band was so welcomed. Great songs, superb musicianship, and a sense of togetherness never gets old, and what was witnessed was looking forward to the future as well as paying tribute to the past. Phil would have been very proud.
Words: Paul Monkhouse